Hydrostop
A smart device for protecting your property against flooding and for monitoring your water consumption
It ensures nonstop protection 24 hours a day.
It detects unwanted leakage and closes the water main automatically.
It informs you about the closed water main.
It detects even small water leakages, so called first-running.
It enables a wide range of adjustment as per the individual user's needs.
The option of device control via PC (via your Wi-Fi network).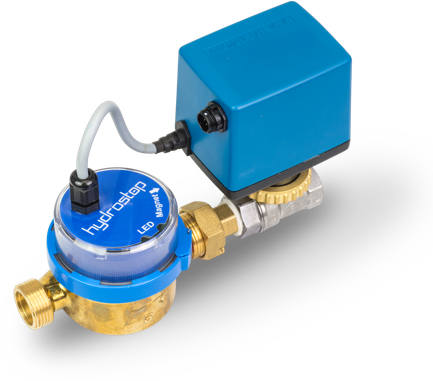 ---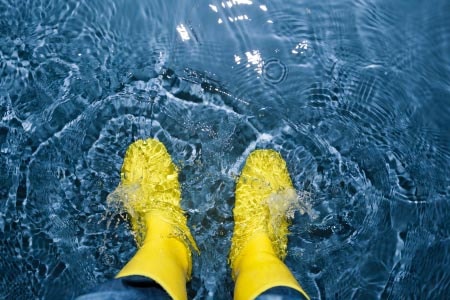 Do you think that flooding cannot affect you?
This is a mistake – flooding is the most common cause of all property damage in households. Half population of the developed parts of Europe experienced it! All leaks can be prevented by the innovative Hydrostop "anti-flood valve".
A sudden leak can occur at anytime, anywhere and without warning! Most flooding happens when people are at work or when they are asleep at night, and they do not notice the water leakage in time.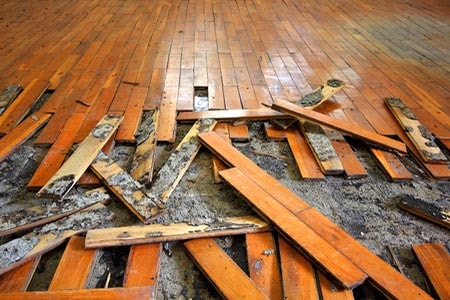 Water can cause serious damage
The damage caused by flooding reaches thousands EURO on average. It is common that several flats are flooded, or there is large-scale damage of family houses (destroyed floors, furniture, walls, bearing construction, insulation, problems with mildew, higher heating costs, drying, and more) where the damage can reach up to tens of thousands EURO!
Stress and worries associated with cleaning the damage and the full value of your property and costs will not be compensated. Destroyed family photos or works of art cannot be restored, even if you have the best insurance.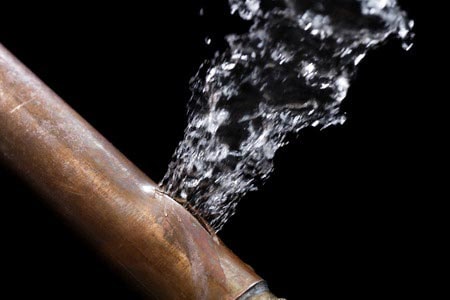 Where else can a water leak occur?
Most leakage is associated with cracked flexible connecting pipes of WCs, water faucets, washing machines, dishwashers, or with a cracked fixed pipeline.
The water flow rate through a cracked WC pipe is 600 - 1000 litres/hour! Small leaks are less frequent, but more dangerous; they are caused by unsealed pipelines. The water leak goes under the house or into its construction, and sometimes for the period of several months or even years. These leaks cause serious damage to the whole property. The resulting damage must be paid for by the owner, including the cost of the run-through water.
Why to choose Hydrostop?
Advantages of Hydrostop installation
Manufactured and assembled in the Czech Republic
High-quality components
Identifying targeted water consumption
Consulting services and an individual approach
Device control via PC
Reliable guarantee and device service
When can Hydrostop help?
Most frequent cases that can be prevented using Hydrostop
Where is Hydrostop suitable?
What types of property can it protect?
Family houses
Blocks of flats
Commercial premises
Public buildings
Hydrostop is suitable for most new buildings and older buildings. Ideally installed in technical rooms or basements. The system is dust and water resistant with degree of protection IP54. Larger commercial objects can also be protected with a single device, thanks to the use of unique functions such as fast recognition of targeted consumption, monitoring of minimum flows (drips), etc.
Hydrostop Installation
What does it consist of and how does it work?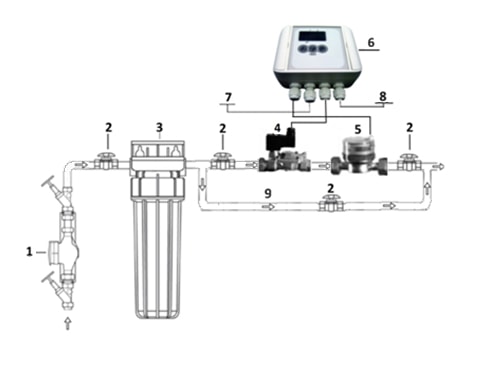 Illustration of connection diagram
Integrating water meter (for invoices)
Closing valve
Strainer
Electromagnetic closing valve
Impulse flow meter
Electronic control unit
Input for alarm connection, buttons, ...
Input for electric current of 230V/50Hz (120V/60Hz)
Bypass
It consists of an electric control unit, the impulse flow meter itself, and an electromagnetic closing valve.
It is installed into the water distribution, behind the strainer and the integrating water meter. It is recommended to create a bypass (see the illustration diagram). It can be placed in the water pipe shaft, the utility room, or in the area of the cellar. Or in another place of water distribution which is suitable for Hydrostop installation.
The Hydrostop control unit receives data from the impulse flow meter about the run-through water, and evaluates a potential excessive leak or a small first-running according to the set limits, and closes the water main. It can also detect the water consumption as targeted and does not take any action.
Examples of Installations from Our Clients
Environmentally friendly Example: a WC with excessive water consumption – common in households, commercial and public buildings
Leak with the flow rate of 0.066 litre/s = 4 l/1 min = 240 l/hr = 5.5 m3/24 hrs.
| Length of leakage | Price of leakage | Water leak |
| --- | --- | --- |
| day | 18 EUR | 5 500 l |
| week | 126 EUR | 38 500 l |
| month | 504 EUR | 154 000 l |
| year | 6 042 EUR | 1,85 mil. l |
Do you think it is too much? Let's reduce the flow rate to half = 0.033 l/s.
| Length of leakage | Price of leakage | Water leak |
| --- | --- | --- |
| day | 9 EUR | 2 750 l |
| week | 63 EUR | 19 250 l |
| month | 252 EUR | 77 000 l |
| year | 3025 EUR | 924 000 l |
Still too much water? Let's reduce it again to the flow rate of only 0.016 l/s
| Length of leakage | Price of leakage | Water leak |
| --- | --- | --- |
| day | 5 EUR | 1 375 l |
| week | 32 EUR | 9 625 l |
| month | 126 EUR | 38 500 l |
| year | 1 511 EUR | 462 000 l |
Caution: 462,000 litres of leaked water from one "negligently" run-through WC represents the annual consumption of 5 households and the loss of 1 500 EUR.
The water price chosen for the calculation is 3,25 EUR/m3.
Installing Hydrostop can stop the mentioned leak! It has been developed for protection against long-term and sudden water leaks which cause serious damage to property, as well as to the environment. The unnecessary annual loss can reach millions of litres of potable water.